It's
Tony Bennett's
90th birthday!
(
Central Park by Tony Bennett
)
Probably the most relaxed performer I've ever seen. It was in 2008 at a taping of one of
Elvis Costello's
Spectacle interview shows for the Sundance Channel done at the Saturday Night Live studio at 30 Rock in NYC (and my thanks to the folks at NBC who knew I was an Elvis fan and got us tickets!). No more than 200 to 250 people were there and we were in the third row, seated just behind
Diana Krall
, Elvis' wife, who'd given birth to twins six months before and had performed since then. Tony was Elvis' only guest that evening.
Elvis would ask Tony questions; sometimes he'd answer, other times he'd talk about whatever he wanted to talk about. He told us the two things he liked to do most in life were sing and paint (he's quite a good artist). At one point, he ventured into the audience, grabbed Diana and brought her onstage to perform a song with him. We're pretty sure it was an unstaged moment since we'd overheard some of her conversation with a friend just before.
The first song Tony did that evening was
The Way You Look Tonight
. His voice is not what it once was, and when he started, I wondered if he could pull it off. Silly me; the man can deliver a song. By the time he finished, all of us were a bit misty. And listen to the lovely piano accompaniment by
Bill Charlap
.
Happy birthday, Mr Bennett.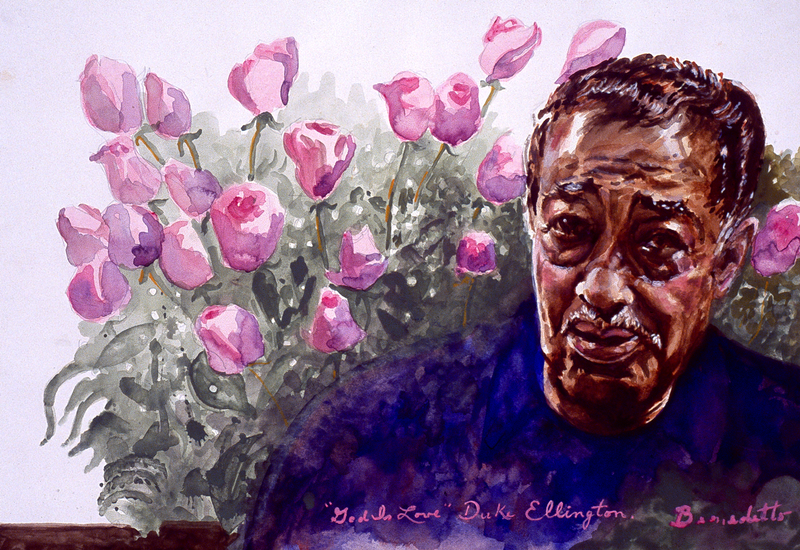 Duke Ellington by Tony Bennett.