Last night, THC and Mrs THC caught
Elvis Costello
at the Ikeda Theater located in the Mesa Arts Center. It is one of the best concert venues THC has been in. Beautiful aesthetically, the acoustics are incredibly good. By the time we found out about the show the only seats we could get were in the last row of the balcony but the sound was crystal clear even there. This was the 8th time THC has seen Mr Costello since December 1977.
(
from AZCentral
)
This was a solo Elvis show (he's calling it The Detour Tour) consisting of him telling many stories and playing piano and guitar (many guitars, in fact) in the course of singing about 30 songs over 2 1/2 hours, all backed by entertaining videos, including one of his father, who Elvis resembles in looks and mannerisms, leading his band and singing If I Had A Hammer on an early 1960s British TV show.
(
Ross McManus, Elvis' Dad
)
Elvis opened with an eerie version of
Lipstick Vogue,
which THC thought could not be done well solo, but he was wrong. He was joined for several songs by the Lovell sisters of
Larkin Poe
(the opening act) and then, for the last two songs, by a surprise guest,
Nils Lofgren
, who added some wonderful guitar work.
His back catalogue of top-notch songs is so large he could have done another two shows of equal quality with an entirely different set list.
(
from AZ Central
)
This
long review
from AZCentral captures the spirit of the evening. Some excerpts:
Detour, as the show was billed, featured Costello alone on assorted guitars and piano singing songs and telling stories that were frequently hilarious but also deeply moving on occasion
It's a format that works for a number of reasons. One, he's clearly got the voice to fill a room (or reach inside your chest and tear your heart out when required). Two, his catalog is rich with songs that lend themselves to that "unplugged" approach, aside from which the man has always had a knack for recasting familiar songs in unexpected lights.

But perhaps the main reason Costello is better at this kind of format than any performer I've seen is that he's got the personality to keep you entertained from start to finish. He's kind of a kook -- with a dry British wit and a well-honed sense of the absurd.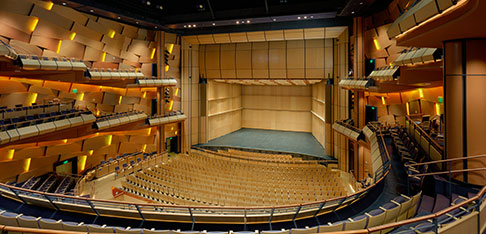 (
Ikeda Theater
)