No matter how tough your winter has been, these folks had it tougher.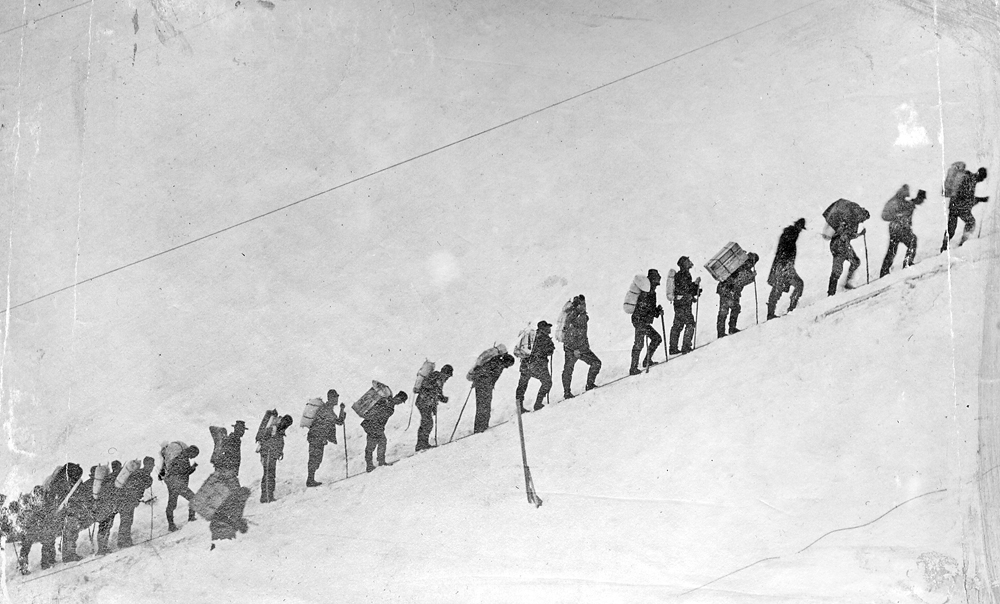 (Photo from National Park Service)
1896 saw the start of the Klondike Gold Rush, when gold was discovered along the Klondike River in Canada's Yukon Territory. Over the next three years, up to 100,000 prospectors and adventurers made their way to Dawson in the Yukon, before the bubble burst and the next gold rush occurred in Nome, Alaska.
There were several routes to the goldfields. More than 30,000 chose to come by boat from Seattle and other West Coast ports to Skagway and Dyer, Alaska and then trek by foot and river the 600 miles to Dawson.
(Via wikipedia)
There were two trails from this area, White Pass from Skagway and Chilkoot from Dyer. About two thirds attempted the Chilkoot. Canadian authorities required anyone entering the territory to bring one year of food supplies and this, along with the prospecting equipment, weighed about a ton, requiring multiple trips along the Chilkoot to hand carry everything. The photo below shows the Chilkoot Pass. To the front is The Scales, the Canadian border station at the entrance to the pass. To the left are The Steps, which were hacked out to provide a faster, though steeper, path through the pass. The photo at the top of this post, shows the ascent of The Steps.